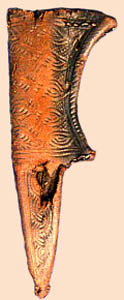 York, 1-2 Tower Street
Sheath for a knife
12th century
A knife sheath of calf leather found in a large ditch forming part of the fortifications on the north-west side of York castle. The sheath is divided into separate portions for blade, handle and a suspension flap in which there are two small suspension slits. Handle, blade and suspension flap are delineated and decorated with different designs. On the front of the suspension flap and handle, continuing onto the back of the handle, is a simple interlace on a background of cross-hatching. The front of the blade also bears a simple interlace. The back of the blade, the back of the suspension flap and the front and back edges of the handle all carry simple hatching.
(Nicola Rogers, York Archaeological Trust)
Dimensions: L.136, W. 49, T.1.5mm.
Location and accession details :
York Archaeological Trust 1981.3, sf513
(Photo: M. Duffy © York Archaeological Trust)